The Sociology Undergraduate Student Association (S.U.S.A.)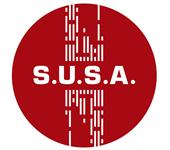 SUSA Wins Again!
SUSA has won the 2014 – 2015 Liberal Arts and Professional Studies Outstanding Overall Contribution to Student Experience Award. In 2013-2014 SUSA also won the Commitment to Student Experience and Commitment to Alumni Relations Award. Of the 5 years of awards, SUSA has taken home 4 wins in several categories, with some SUSA executive members also taking home individual awards for their commitment to volunteering and student engagement.
SUSA has a lot in store for its members this upcoming academic year. Keep an eye out for their events and get involved in this great organization!
What is SUSA?
Our Department has a vibrant undergraduate student association that engages in outreach activities aimed to enhance the academic and social experience of Sociology students at York University.
SUSA is a student organization that caters to the academic and social life of Sociology Undergraduate students. It functions as a liaison between the Department of Sociology and Undergraduate Sociology students. They provide a front line resource and a voice for undergraduates within the department, and guide sociology students to resources that may help them with their academic careers.
SUSA hosts both social and academic events (Fall & Winter Socials, Meet N' Greets, Mentorship Events, Career Days and the Sociology Undergraduate Conference) throughout the year.
SUSA fosters extracurricular experience through involvement on the executive council, as a general member or as a conference presenter. Members are intimately involved in the life of the Sociology Department, serving on committees including hiring and curriculum committees, thus guaranteeing that undergraduate student needs are being represented. 
SUSA works extraordinarily as a team to help each other out, but most importantly to help the students who are enrolled in sociology courses. SUSA offers help and any extra information that a Sociology student may need throughout their program. Becoming a member is really easy! All you have to do is attend one of our events and add yourself to our roster on YU Connect. If you attend a minimum of three of our events, you will be rewarded with a Certificate of Participation that is recognized by the Department of Sociology.
Falling in Love with Research

Do you have a passion for sociological research? Are you natural curious about society? Do you want to improve your research skills? The Falling in Love with Research project is for you! This project consists of both undergrad and grad students working with a prof to create an independent research project. We have explored the topics of social media, identity, activism and more. Students get to learn firsthand how fun and rewarding research can be. This project is unique to the sociology program at York, so take advantage of it! Please contact SUSA to get more information.
Mentorship Program
This program pairs first and second year students with those who are in their upper years. The mentors get to enhance their resumes and skill set by mentoring students who are new to York and to the sociology program. The mentee's get to have peace of mind, knowing they have someone who they can reach out to with any questions they have about program. The mentorship program fosters a relationship that is extremely beneficial to both participants… Mentees and Mentors!
SUSA Awards
SUSA gives this award to teaching assistants, contract faculty members, and tenure-track faculty members who are chosen by the undergraduate sociology student body for their teaching excellence. SUSA provides information and supplies nomination forms for this award to undergraduate sociology students prior to the end of the winter term. Winners are determined by the SUSA executive, based on numbers of nominations and comments made by students.
Professor Larry Lam, Former Sociology Undergraduate Program Director, has very generously donated funds to the Sociology Undergraduate Students' Association (SUSA). Applicants are expected to demonstrate an engagement with Sociology both inside and outside of the classroom.
Criteria:
Any Sociology major who is a current SUSA member in good standing may be considered for a Prize.
A Prize will be awarded for eligible students in each of years one, two, and three of the Sociology program. Students are required to have completed the year for which they are competing by the end of the winter term. SUSA may withhold any or all of the Prizes if no suitable candidate or candidates have applied.
Students considered for a Prize must have a minimum GPA of B. Applicants must submit an unofficial copy of their transcript.
Students considered for a Prize must submit: a copy of their unofficial transcript; a cover letter of up to three pages double spaced (12 point font), addressing their suitability for the Prize, and including contact information for two referees (not letters of reference). At least one referee must be a faculty member or Teaching Assistant in the Department of Sociology. Applicants can expect their referees to be contacted. The Adjudication Committee reserves the right to interview applicants. Letters are to be addressed to the Larry Lam Prize Adjudication Committee.
The cover letter must include the applicant's full name, student number, phone number, and email address, in addition to the names and contact information for two referees.
The deadline for submission of applications is normally in early March. Please contact SUSA directly to inquire about current deadlines.
Incomplete applications will not be considered.
Adjudication Process:
The Adjudication Committee will be comprised of three members of SUSA's Executive Committee, SUSA's faculty advisor, and Awards and Scholarship Committee in the Department of Sociology or faculty chosen by the Awards and Scholarship Committee.
Recipients are announced in April.
These are only some of SUSA's most reputable programs. To find out more check out their links below.
Need face to face interaction? Email us about current office hours and come visit us in the sociology department at 2099 Vari Hall.