Professor Hyun Ok Park's book, The Capitalist Unconscious, wins honorable mention in the 2017 James B. Palais for Korean Studies Book Prize Competition of the Association for Asian Studies.
About The Capitalist Unconscious...
The unification of North and South Korea is widely considered an unresolved and volatile matter for the global order, but this book argues capital has already unified Korea in a transnational form. As Hyun Ok Park demonstrates, rather than territorial integration and family union, the capitalist unconscious drives the current unification, imagining the capitalist integration of the Korean peninsula and the Korean diaspora as a new democratic moment. [Read more]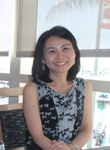 Congratulations, Dr. Park!!