Why choose Sociology at York?
We are one of Canada's largest and most engaged sociology departments, and we are excited to share this engagement with our students, who make important contributions to our department, the university, and their communities. Our students are often publicly recognized for this commitment, winning highly coveted awards.
As one of our students, you will experience the excitement of sociology in the largest city in Canada, with all its charm and challenges. We are committed to developing your knowledge, analytical, and research skills in ways that will help you succeed in the future. I look forward to seeing you at York!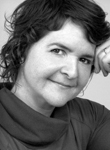 Lesley J. Wood
Chair, Department of Sociology
---